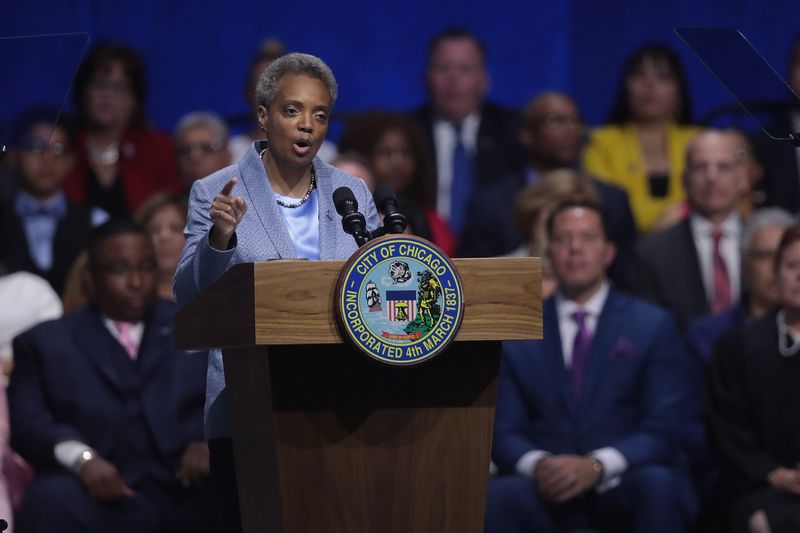 How's she doing?
If you're keeping score (we are), here's how Mayor Lori Lightfoot's actions measure up against the BGA agenda published after her election.
The mayor survived a close call when a last-minute attempt to revive a bill to create an elected Chicago school board failed in the lame duck legislative session. Its supporters will no doubt renew their push. If Lightfoot wants to counter with her own proposal — as she told lawmakers a year earlier — she'll need to get to work on that. January 30, 2021
1. Enforce a citywide standard of proactive, affirmative transparency

Link to this section

Updated: 4 months ago

See the BGA Policy team's recommendations for this area at 'The BGA's Agenda for Lori Lightfoot'

Lightfoot's record on transparency took a big hit when Chicagoans learned that her administration tried to withhold video of a botched police raid at the home of Anjanette Young, who was handcuffed naked in her apartment as police ignored her protests that they were in the wrong place. The mayor's shifting versions of what she knew and when she knew it compounded the error.

A Freedom of Information request by the Chicago Tribune turned up this embarrassing item: Lightfoot and a top aide had wagered "three cigars and a bottle of good scotch" on how long the 2019 Chicago Teachers Union strike would last. The aide explained that it was all in jest — but only after the state's Public Access Counselor ruled that Lightfoot's staff had improperly redacted the details from an email.

The state's public access counselor rules that the private conference calls between Lightfoot and aldermen violated the Illinois Open Meetings Act. The city continues to contest the BGA's lawsuit over the same meetings.

A city inspector general's report finds that the Civilian Office of Police Accountability failed to release video and other evidence in excessive force cases within 60 days as required by its own policy. The review of 122 cases flagged 33 missed deadlines.

The full City Council takes no action on the Green v. CPD settlement in the face of criticism over the city's attempt to avoid releasing the documents, which are public records. Ald. Scott Waguespack says he will draft an ordinance to assure their release.

The City Council Finance Committee advances a settlement proposed by Lightfoot's Law Department in Green v. Chicago Police Department. Charles Green, whose FOIA request was ignored by CPD when he sought records that he believes will show he was wrongly convicted of murder, sued the department and won big: A judge ordered the city to produce records of police misconduct claims dating back to 1967. The city wants to pay Green $500,000 to waive that claim.

The Lightfoot administration disabled a computer interface that allowed journalists and researchers to download and analyze arrest data compiled by the Chicago Police Department. This happened after the Chicago Reporter used the data to contradict CPD's claim that the majority of arrests made during a weekend of Black Lives Matter demonstrations were related to looting, not protest activities. The backlash on Twitter was led by members of Lightfoot's "good governance" transition committee — joined by Chance the Rapper.

City Hall has not released Inspector General Joseph Ferguson's report on the October 2019 incident that led to Lightfoot's firing of then-police Supt. Eddie Johnson. Earlier in the week, the city released video and other records from the night Johnson was found apparently asleep at the wheel of his parked car. The BGA and others sued to obtain the records.

Eight months after then-police Supt. Eddie Johnson was found asleep at the wheel of his parked car, City Hall finally releases the dashcam video from bodycams worn by officers who responded to the call. Some but not all documents also were released. The BGA and others had sued to obtain the records. The incident led Lightfoot to fire Johnson in December.

The BGA sues the Chicago City Council for holding private conference calls with the mayor in violation of the Illinois Open Meetings Act. The lawsuit says the calls "violated nearly every meaningful OMA requirement." There was no public notice of the meetings, no agenda, no opportunity for citizens to observe or comment and no vote to close the meetings to the public.

Asked about her support for an effort to suspend the Illinois Freedom of Information Act during the COVID-19 emergency, Lightfoot offers a false choice: saving lives or pulling public records. Seriously. The mayor raised the specter of epidemiologists being pulled from the lab to respond to FOIA requests. So far the campaign, spearheaded by the Illinois Municipal League, has not gained traction.

City Hall communications staffers stumble badly by declaring that responding to FOIA requests is a "non-essential" service. The policy seems to take Lightfoot by surprise when reporters question her at a news briefing. It lasts only a few hours.

UPDATE: Records released.

UPDATE: The ordinance passed.

A judge lifted his order preventing the release of documents about an alleged cover-up by Chicago police after the shooting of teenager Laquan McDonald by Officer Jason Van Dyke. The records are from a city inspector general's 2016 investigation that concluded 11 police officers should be dismissed. The mayor's office says it still can't release the records to reporters until the City Council passes an amendment to the municipal code — even though the documents are in the possession of the Chicago Police Department, not the IG. That vote could come Sept. 18.

Paid lobbyists for nonprofits will now have to register (but their fees will be waived) under the just-approved ethics ordinance.

For the first time, Chicago Public Schools Board of Education livestreams its meeting.

Lightfoot's proposal to expand the definition of "lobbyist" would give the public a better view of who is trying to influence government officials. The amended ordinance would require lobbyists for nonprofits to register if they are paid to do so. The ordinance still needs full City Council approval.

Ald. Tom Tunney, 44th, the mayor's pick to chair the City Council's Zoning Committee, has decided that citizens won't be allowed to speak on individual agenda items after hearing the city staff's presentation. They'll be limited instead to four minutes during a designated public comment period covering the entire agenda. It looks like an attempt to contain frequent commenter George Blakemore, who isn't the only concerned citizen in Chicago. Let the people speak, alderman.

The mayor's proposed amendments to the ethics ordinance would broaden the definition of lobbyists, requiring those who lobby for non-profits to register and file quarterly reports.

Lightfoot's proposed rule changes, approved by aldermen, require City Council committee meetings to be livestreamed and the recordings posted online.
2. Eliminate conflicts of interest in city government

Link to this section

Updated: 4 months ago

See the BGA Policy team's recommendations for this area at 'The BGA's Agenda for Lori Lightfoot'

The Chicago Board of Ethics fined Ald. Howard Brookins $5,000 for violating the ethics ordinance championed by Lightfoot last year. Brookins, 21st, who is an attorney, represents former Ald. Joseph Moreno, who is charged with insurance fraud and obstruction of justice for allegedly falsely reporting his car stolen. The ordinance prohibits aldermen from outside work that conflicts with the city's financial interests.

The City Council's Ethics Committee rejects Lightfoot's attempt to water down a "cross-lobbying" ban enacted last year. The mayor wanted to amend the ordinance to allow elected officials from other governments to lobby the city if the public body they represent had no pending or recurring business with Chicago.

More fine-tuning of the ethics ordinance: City employees who have decision-making authority over contracts already were prohibited from having ownership stakes in businesses associated with those contracts. A new ordinance prohibits them from moonlighting for those companies or for their subcontractors.

CIty Council passes the lobbying ordinance. City officials can't lobby other government officials and vice versa.

The City Council Ethics Committee advances an ordinance to prohibit elected officials in Chicago from lobbying other state and local governments. It also would prohibit elected officials from other state and local governments from lobbying Chicago.

Ald. Ed Burke, 14th, has 90 days to decide whether he wants to be an alderman or a property tax appeals lawyer. Under the ethics ordinance approved July 24, he can't be both.

The Ethics and Good Governance Committee signed off on limits on outside jobs held by aldermen and city employees. Will the full City Council embrace this check on conflicts on interest?

Lightfoot introduces changes to the ethics ordinance that would prohibit aldermen from holding outside jobs that conflict with taxpayer interests.

The mayor also proposes fines of up to $5,000 for serious ethics violations. (The current ceiling is $2,000; the Chicago Board of Ethics has proposed $20,000.)

Today marks the fourth time Lightfoot has publicly called for indicted Ald. Ed Burke, 14th, to resign.

City Council approves new rule proposed by Lightfoot that requires aldermen who have conflicts of interest to recuse themselves from all discussion of the matter in question, as well as from voting
3. Transform policing for a safer Chicago

Link to this section

Updated: 3 months ago

See the BGA Policy team's recommendations for this area at 'The BGA's Agenda for Lori Lightfoot'

Two camps pushing plans for civilian oversight of the Chicago Police Department presented amended proposals with the City Council's Public Safety Committee. Lightfoot had listed civilian police oversight as a priority for her first 100 days, but so far has not been able to reach an agreement over shared responsibilities.

Homicides in Chicago were up 55 percent in 2020, and shootings were up 53 percent, reversing a three-year trend of reduced violence. Other large cities experienced significant bumps, though not as large as Chicago. The pressure is on Lightfoot and Supt. David Brown to make changes that turn things around, even as they struggle to comply with a federal consent decree.

Inspector General Joe Ferguson warns that the Chicago Police Department's efforts to restore public trust are jeopardized by the slow pace of compliance with the federal consent decree. At a City Council budget hearing, Ferguson also says CPD should overhaul its beat system for the first time in 50 years. And he reminds aldermen of the unfulfilled promise of a citizen oversight board.

Lightfoot rejects calls to "defund the police," saying it would make communities less safe. But she pledges to work toward "bias-free policing" and to test ways to relieve police of responsibility for being first responders in cases that could be handled by others.

Chicago police will adopt five changes to the department's use of force policies, a result regarded as lip service by some members of the task force that recommended 150 reforms. The federal consent decree will likely result in more changes, but that process is woefully behind schedule.

The City Council's Public Safety Committee advances an ordinance that would require top police officials to provide regular updates on the department's progress toward meeting the terms of the consent decree.

The city releases a consent decree catch-up plan after the independent monitor reports that 70 percent of deadlines were missed in the first year.

Chicago has missed 70 percent of deadlines to enact reforms spelled out in the federal consent decree, according to the independent monitor overseeing the agreement. That's 89 of 124 deadlines that were not met. In a joint statement, Lightfoot and new police Supt. David Brown promise to "double down on our efforts," adding that the consent decree requirements are "merely a baseline, not the ceiling." But so far that baseline hasn't been met.

Lightfoot appoints a task force to examine the Chicago Police Department's use of force policies as Chicagoans join in nationwide calls to "defund the police."

Lightfoot calls for the firing of a police officer who flipped off protesters in Lincoln Park on June 4. She also said cops who hid or obscured their badges during protests should be fired, though the police disciplinary process makes that outcome unlikely. The city will not defund the police department or remove police from public schools despite demands from activists, the mayor says.

A coalition of civil rights groups wants the monitor overseeing the federal consent decree to investigate how Chicago police responded to protests. Lightfoot joined in that request.

Calling the federal consent decree process "too slow and too narrowly focused," Lightfoot gives Supt. David Brown 90 days to conduct training in neighborhood policing and de-escalation strategies, to improve officer wellness programs and to implement a new community-focused recruit program.

David Brown is sworn in as the new police superintendent following a 50-0 vote of the City Council.

Former Dallas Police Chief David Brown is Lightfoot's pick to be Chicago's new police superintendent. Lightfoot calls him a "humble leader" known for promoting peaceful neighborhoods. She also points to a strong record of transparency.

The federal judge overseeing the Chicago police consent decree extends deadlines for 30 days or until the governor's emergency order expires, whichever is later. In a motion requesting the delay, the city's lawyers say "addressing the COVID-19 pandemic and its ripple effects has become the top priority for the city and CPD."

Lightfoot announces that the search for a new police superintendent is on hold as the city focuses on its response to the COVID-19 pandemic. Interim Supt. Charlie Beck, who had expected to return to Los Angeles by April, says he'll stay as long as needed.

An ordinance to create a police community oversight commission stalls in committee as the parties negotiate over who gets to set department policy. With City Council meetings canceled because of the coronavirus, it's not clear when the measure might advance.

The mayor, police department and Chicago Transit Authority announce a new plan to fight crime on public transit, including new technology, a dedicated detective unit and 50 more police officers. Later the same day, a man who was stopped for allegedly jumping between train cars is shot by a police officer at the Grand Avenue Red Line stop after three officers struggle to arrest him.

The Grassroots Alliance for Police Accountability holds a news conference to complain about the slow pace of negotiations toward a civilian oversight board for the police department.

Twenty-five people want to be Chicago Police Superintendent. The Police Board will review the applicants and recommend three finalists to the mayor.

Interim Supt. Charlie Beck takes the wheel at the Chicago Police Department, and several top officers say they'll submit retirement papers.

Supt. Eddie Johnson, whose retirement would have been effective at year's end, was abruptly fired by Lightfoot after she saw an inspector general's report and video of the night he was found slumped over behind the wheel of his car. Lightfoot said Johnson "engaged in a series of ethical lapses that are intolerable" including lying to her about the events of the evening.

Police Supt. Eddie Johnson's retirement begs the question: What happened to the community oversight ordinance promised by former Mayor Rahm Emanuel and seconded by Lightfoot? The Grassroots Alliance for Police Accountability has been working with the mayor, but the elected commission that is central to its plan obviously won't be in place to help select Johnson's replacement.

It's even worse than expected: The independent monitor overseeing the consent decree says the Chicago Police Department hit only 13 of 50 deadlines in the first reporting period, from March through August. The 142-page report notes "concerns about CPD's efforts to engage the community." Superintendent Eddie Johnson says the department is working as fast as possible but "placing greater importance on affirming the reforms have undergone the appropriate reviews."

The mayor's commitment to community policing is underscored by her choice for interim superintendent: former Los Angeles Police Chief Charlie Beck, who is credited with a sharp drop in violent crime. The search is on for a permanent replacement for retiring Supt. Eddie Johnson.

Police chief Eddie Johnson announces his retirement. Lightfoot praises him for leading the department through the rocky aftermath of the Laquan McDonald killing, for beginning the court-ordered reforms and for reducing gun violence.

Lightfoot says her plan to reorganize the police department will put 151 officers back on the street. A new Office of Public Safety Administration will also analyze data with an eye to reducing overtime, which cost the city $200 million last year.

Off to a bad start: WBEZ reports that the city has missed at least two dozen deadlines spelled out in the police consent decree that became effective March 1. That's the takeaway from a six-month progress report filed with the federal judge overseeing the reforms.

Lightfoot and Chicago Police Supt. Eddie Johnson announced the launch of two new Area Technology Centers in Area Central and Area North. The centers house technology that will allow detectives to better process digital evidence, including footage from cellphones and private surveillance cameras. Community members will also be able to extract video pertaining to incidents occurring near their homes or businesses.

Lightfoot announces a policing initiative focused on neighborhood businesses. Each of the city's 22 police districts will designate a "business liaison officer" to address public safety complaints and to work with the city department of Business Affairs and Consumer Protection to make sure licensing requirements and other rules are followed.
4. Reset the relationship between the City Council and the mayor

Link to this section

Updated: 5 months ago

See the BGA Policy team's recommendations for this area at 'The BGA's Agenda for Lori Lightfoot'

Mayor "I Don't Buy Votes" Lightfoot tells members of the City Council's Black caucus that their wards will suffer if they don't support her budget, according to some who were in the meeting. ("Don't come to me for s—- for the next three years," two aldermen quoted her as saying.)

With a $1.2 billion budget shortfall looming and aldermen complaining publicly about her communication style, Lightfoot strikes a conciliatory note: "I need to push myself harder to work with people with whom I do not agree and who do not agree with me. If you are focused on creating a better tomorrow for all of our residents, then I will be even more intentional in finding common ground with you."

The BGA sues the Chicago City Council for holding private conference calls with the mayor in violation of the Illinois Open Meetings Act. The lawsuit says the calls "violated nearly every meaningful OMA requirement." There was no public notice of the meetings, no agenda, no opportunity for citizens to observe or comment and no vote to close the meetings to the public.

"From Rubber Stamp to a Divided City Council," a new report from political scientists at the University of Illinois at Chicago, looks at the evolving alliances among caucuses and informal voting blocs on the City Council. In a Chicago Tribune commentary, co-author Dick Simpson notes, "There is genuine debate and there are fierce arguments, but they often are over how to include all Chicagoans and how best to get things done. We have a strong mayor who is in charge and a council willing to provide checks and balances."

The emergency powers ordinance passes 29-21.

Five aldermen invoke a parliamentary move to delay a vote on the ordinance codifying Lightfoot's emergency powers. The City Council will meet again in two days.

It took more than four hours of debate before the City Council's Budget Committee advanced an ordinance retroactively granting Lightfoot the authority to make changes to the 2020 budget to deal with COVID-19 spending. Aldermen complain that they're being relegated "to the sidelines," and ask for more frequent (virtual) meetings so they can participate in decisions.

Lightfoot blamed a developer after a cloud of debris that settled over Little Village after the weekend demolition of an industrial smokestack, but some aldermen point fingers at the mayor's fight against aldermanic prerogative, saying they are powerless to block such permits in their wards.

Lightfoot's marijuana zoning ordinance passes the City Council by a vote of 40-10 after strenuous pushback from the Black Caucus and assurances from the mayor that she will work to overcome their concerns about minority ownership of dispensaries. Again, lots of talk about an insurrection, but this is a healthy dynamic between executive and legislative branches.

Aldermen pass an ordinance strengthening the Council Office of Financial Analysis. The office is meant to provide them with independent guidance on matters involving taxpayer dollars, allowing them to vet mayoral proposals instead of relying on City Hall.

There's a lot of talk about a possible rebellion in the City Council, as Lightfoot presses her agenda for Chicago. Aldermen are pushing back against her attempts to curb their longstanding control over decisions in their wards. In September, a pair of critics put the brakes on her pick for the Zoning Board of Appeals, for example. Ald. Anthony Beale, 9th, who penned an op-ed in the Sun-Times chiding the mayor for making things "all about you," predicts Lightfoot will eventually need aldermanic support for a property tax increase — and will have a hard time getting it. Is this a rebellion? It's a start. Is that a bad thing? Not necessarily. There's supposed to be give-and-take between the executive and legislative branches. But it can't begin and end with resisting the mayor's initiatives, or with the mayor dismissing aldermanic alternatives.

Still working on it: City departments won't need a letter of support from an alderman to approve demolition permits, land sales, new Divvy stations, Neighborhood Opportunity Fund grants and other tax breaks in their wards. Aldermanic prerogative takes another hit.

Not so fast: The last paragraph of a press release about reforms to the workers' compensation program boasts that Lightfoot has "eliminated Aldermanic Prerogative through Executive Order." It's a little early for a victory lap.

Presiding over her first City Council meeting, Lightfoot won approval of a plan to reorganize the committee structure. She added two new committees, installed new chairs and realigned some responsibilities. She also adjusted funding, including cutting the Finance Committee budget from $2.3 million to about $700,000.

On her first day as mayor, Lightfoot signs an executive order instructing city departments not to defer to aldermanic prerogative when granting licenses and permits. The order doesn't curb the practice with regard to zoning; that will require amending the municipal code.
5. Strengthen oversight of all government bodies and functions

Link to this section

Updated: 2 years ago

See the BGA Policy team's recommendations for this area at 'The BGA's Agenda for Lori Lightfoot'

After 30 years of ducking full oversight, aldermen agreed to fully empower the city inspector general to investigate and audit the City Council. Fines for the worst ethics violators increase to $5,000 (up from $2,000).

The city's inspector general would have full authority to audit and investigate the City Council if aldermen approve the mayor's proposal that survived a committee vote July 17. The measure also would increase the statute of limitations for alleged ethical offenses and give the IG power to enforce subpoenas. Believe it when you see it.

Special carve-outs that spare the City Council from full scrutiny of the Inspector General would be eliminated under Lightfoot's proposed amendments to the ethics ordinance.
6. Wrestle the pension monster to the ground

Link to this section

Updated: 6 months ago

See the BGA Policy team's recommendations for this area at 'The BGA's Agenda for Lori Lightfoot'

With a tough budget looming and continued revenue uncertainty thanks to COVID-19, Lightfoot is again being urged to consider the pension obligation bond plan pitched by her predecessor.

A new tax structure approved by the General Assembly means a Chicago casino is close to reality after decades of trying. The revenue will be used to fund police and fire pensions.

Gov. J.B. Pritzker is less than lukewarm toward Lightfoot's request for the state to take over the city's struggling pension funds. But their meeting opened a dialogue about how Springfield and Chicago might work together, possibly helping to rescue smaller suburban and downstate pension funds, too.
7. Don't count on new revenues to right the ship

Link to this section

Updated: 5 months ago

See the BGA Policy team's recommendations for this area at 'The BGA's Agenda for Lori Lightfoot'

Lightfoot's 2021 "pandemic budget" passes the City Council (28-22), along with a $94 million property tax hike (29-21). The council also greenlighted a five-year, $3.7 billion capital plan that calls for borrowing $1.4 million for projects over the next two years. The budget includes new fines and fees but no layoffs.

City officials breathe a sigh of relief as Joe Biden is declared winner of the Nov. 3 presidential election. A Democrat in the White House increases the chance of federal help to replace city revenues lost during the pandemic.

Lightfoot says the city "can't afford not to" adopt her $3.7 billion capital plan, despite the absence of a funding source. "Our bridges, our tunnels, our roads are crumbling," she says. "We've got to address these issues."

Lightfoot wants to issue speed camera tickets to drivers caught going 6 mph over the speed limit, calling it a public safety issue. Skeptics say it likely has more to do with the $1.2 billion deficit in her coming budget. Revenue from parking tickets and booting vehicles has declined steeply during the pandemic.

Lightfoot lays out a plan to fill the $1.2 billion hole in her $12.8 billion budget: a $94 million property tax increase, a 3-cent gas tax hike, refinancing $500 million in city debt, up to 350 layoffs (unless federal help arrives), furloughs, more parking meters and $263 million in "improved fiscal management."

Mayor Lightfoot's budget has a $1.2 billion hole and few options for filling it. Tax hikes, a TIF surplus, service cuts, borrowing and layoffs are all possible if the federal government doesn't come through in a big way.

Lightfoot issues a request for plans from gambling operators and developers interested in building and running a Chicago casino under the new tax structure approved by the General Assembly.

As Chicago moves into Phase 3 of reopening after COVID-19, the city will gradually resume revenue enforcement activities including debt collection and utility bill payment plan defaults. Ticketing for non-safety violations is still suspended (except parking meter violations) and booting of vehicles will not resume yet.

The General Assembly passed a bill revamping the tax structure for a Chicago casino, a move designed to attract investors. A consultant's study had found the original tax structure "onerous." Gov. J.B. Pritzker is expected to sign the bill.

It's too soon to gauge the economic impact of the coronavirus pandemic, but revenue losses could be staggering. Tourism, amusement and dining have taken big hits; transit ridership is way down, as are parking and sales tax receipts.

What to do about mounting revenue losses caused by the COVID-19 outbreak? Ald. Gilbert Villegas brings up a sore subject: video gaming.

Lightfoot travels to Springfield to seek support for the graduated real estate transfer tax and a new tax structure for a Chicago casino. Both proposals were non-starters in the veto session.

Lightfoot's pick to lead the Chicago Department of Transportation says the city's red light cameras will stay. Gia Biagi cites a study by the Northwestern University Traffic Center that points to "significant safety benefits," countering the popular belief that the cameras are just a revenue grab.

Ride share customers continue to grumble about the new $3 "congestion fee" tacked onto solo trips in the downtown zone. The city is counting on the fees to raise $40 million for public transit improvements. Has anyone had trouble summoning a Lyft?

Great timing: A $1.5 billion city debt refinancing move netted the city $310 million dollars — $100 million more than expected, thanks to favorable market conditions. The extra money will provide some relief in the 2021 budget.

The City Council approves Lightfoot's first budget 39-11, a healthy margin with a healthier-than-usual level of dissent. That feels like progress. The budget relies on increased taxes on restaurants and ride shares, along with cuts and consolidations — and a fingers-crossed increase in federal reimbursements for ambulance rides.

Lightfoot went 0-2 in the General Assembly's veto session, with no action taken on her plan for a graduated real estate transfer tax or a new tax structure to attract a developer for a Chicago casino.

Lightfoot's legislative asks are treading deep water in Springfield. Her proposed transaction tax on home sales over $500,000 is opposed by Chicago Democrats who want the money to go toward housing. And the unfolding federal corruption investigation, which has touched on video gaming interests, has given some lawmakers cold feet about reopening the gaming bill to address the tax structure for a Chicago casino.

Part one of the General Assembly's veto session was basically chaos after federal prosecutors charged Rep. Luis Arroyo, D-Chicago, with trying to bribe an unnamed state senator to support a bill that would benefit a lobbying client. Arroyo resigned under pressure from House Speaker Mike Madigan, but not much else got done.

Mayor Lightfoot did everything but rummage in the couch cushions for change in her effort to bridge an $838 million budget gap. The plan she outlined to the City Council calls for new revenue from parking meters, refinancing city debt, taxing Uber rides and restaurant meals and scraping surplus dollars from the city's TIF districts. To make up the rest, she'll be looking for help from state lawmakers in their coming veto session.

Lightfoot says her budget will include higher costs at city parking meters.

The mayor floats two more proposals to shrink the budget gap: Doubling the 0.25 percent tax on food and drinks sold in restaurants, estimated to raise $20 million, and an increase in the 72-cents-per-ride tax on rideshares. Solo riders would pay $3 per trips that begin or end downtown while shared trips pay $1.25. Elsewhere, the flat fee would be 65 cents for shared trips and $1.25 for singles.

Here's a big whack at that deficit: Lightfoot announces plan to refinance $1.3 billion in city debt, saving $200 million in interest next year. She also says her first budget will not include selling risky pension obligation bonds or scoop-and-toss borrowing, which lowers payments now while pushing higher costs off into the future.

Lightfoot overcame resistance from the City Council's Black Caucus to pass her zoning plan for recreational marijuana dispensaries in the city. The mayor promised to work for changes in the state law to ensure that African Americans share in the business opportunities, but she has said she doesn't expect a lot of city revenue from cannabis.

Meeting with state lawmakers from Chicago, Lightfoot reveals her big ask for the General Assembly's veto session: She wants a publicly-owned Chicago casino, operated by a private vendor, with the city and state sharing revenues. Alternatively, she needs changes in the tax structure to attract a developer. She also will ask lawmakers to allow her to raise the real estate transfer tax on high-end sales. Still on the table: a tax on ride shares and yes, a property tax increase.

More efforts to find efficiencies in the budget: A crackdown on delinquent contractor license fees could save $25 million, the mayor says. A new Office of Public Safety Administration would centralize payroll, HR and technology for police, fire and the 911 center (once approved by the City Council). An earlier proposal to merge the Department of Innovation and Technology with Fleet and Facility Management would save $1 million, City Hall says. But critics say the the two departments have little in common.

This feels like spitballing: Lightfoot tells WLS-AM reporter Bill Cameron that she's thinking about a city sales tax on online purchases. That would require approval from the General Assembly.

Speaking of downtown, the mayor hasn't ruled out putting a casino there, despite her strong preference otherwise. But first, let's see what the General Assembly will do to make the taxing structure more attractive to investors.

Lightfoot is bumping heads with aldermen over her plan not to bar marijuana dispensaries downtown when recreational pot becomes legal next year. Aldermen say the city can't afford to pass up the revenue that could be collected from the densely populated, high-traffic downtown. The mayor says she's more worried about equity and public safety.

Chicago is on track to spend $300 million on overtime by the end of the year, Lightfoot said in a speech to the Chicago Investors Conference — and it's not because of necessary crimefighting costs, the Sun-Times reported. Eliminating excessive OT is the sort of efficiency she'll need to deliver as she makes her case for new revenue to close that $838 million budget gap.

Video gaming keeps coming up: Ald. Raymond Lopez, 15th, says a Chicago casino will take too long to build and will lose millions before becoming profitable. He's introduced an ordinance to allow video gaming in the city, where it is now banned. A $2,500-per-terminal license will raise $40 million up front, he says.

Chicago will have a more forgiving ticketing and debt collection system under an ordinance passed by the City Council. The city will no longer seek to suspend a driver's license over unpaid parking tickets, and the late penalty for not buying a city sticker will fall to $50 instead of $200 (along with a 15-day grace period). There's also a new payment plan, to help those with significant ticket debt avoid bankruptcy, and an amnesty plan is in the works. It's all part of Lightfoot's promise to stop relying on punitive fines to balance the budget, but the projected $15 million revenue loss comes at the same time the mayor is struggling to bridge an $838 million budget deficit.

Never mind the $15 million the city will forgo by revising its ticketing and debt collection policies. An inspector general's report says the city is leaving money on the table — along with wasting resources and blindsiding property owners — because of a backlog in code violations. Tickets for violations such as overgrown weeds or overflowing garbage containers are often sent six months to a year after the violation is noted. Ald. Matt O'Shea, 19th, has introduced an ordinance that would require tickets to be issued within 45 days or voided.

The Illinois Gaming Board says lawmakers should revisit the tax structure they set for a proposed Chicago casino after a consultant's study found that the terms would discourage investors. It's on Lightfoot's wishlist for the legislative veto session.

Citizens who turned out for the mayor's first budget town hall had some thoughtful suggestions for how the city might close an $838 million deficit. Savings: Fewer tax breaks for corporations, beginning with an anticipated $1.3 billion TIF subsidy for the Lincoln Yards megadevelopment. Dissolve the TIFs and distribute money in those accounts to the city, schools, parks and other local governments. Convert pensions to 401(k) retirement plans. New revenue: Tax Uber and Lyft. Video gambling. Ask taxpayers to donate their spare change. Don't, don't, don't: Raise property taxes. The town hall schedule is here. You can also weigh in online:](https://www.surveymonkey.com/r/Chicagobudget)

More belt-tightening before the big budget ask: Lightfoot announces a citywide hiring freeze through the end of the year.

The mayor's office announces $6 million in planned efficiencies from the Department of Fleet and Facility Management. Like the crackdown on absenteeism announced weeks earlier, it's an effort to squeeze savings from the city's operating costs before hitting up taxpayers for more revenue. The larger point: It's a drop in the bucket compared to the $1 billion budget gap.

Chicago's hopes for a revenue jackpot were dimmed by a consultant's review paid for by the city. The study concluded that the tax structure built into the new gaming bill would deter investors from any of the five potential sites identified by the city.

Mindful of her campaign pledge to end the city's "addiction" to punitive traffic and parking fines, Lightfoot proposes some small changes – an acknowledgment that the city can't afford to stop cold turkey.

A new chief risk officer will work to reduce the costs to the city from lawsuits related to police misconduct . (Last year they totaled a record $113 million.) Other savings will come from reducing vehicular accidents and workplace injuries and overhauling the workers' comp program.

Terminating $1.4 billion in short term borrowing programs could save the city $22 million in FY 2020. About $16 million will go to the corporate fund and $6 million to improvements at O'Hare International Airport.

The mayor takes steps to professionalize the city's $100-million-a-year workers' compensation program, previously administered without oversight by now-indicted Ald. Ed Burke, 14th.
8. Restore public confidence in TIFs

Link to this section

Updated: a year ago

See the BGA Policy team's recommendations for this area at 'The BGA's Agenda for Lori Lightfoot'

It's not supposed to be a slush fund, remember? A group of business owners ask Lightfoot to use TIF money to provide "survival grants" in response to the COVID-19 pandemic. The mayor declines, saying state law doesn't permit TIF money to be distributed this way. Lightfoot previously announced $100 million in low-interest "resiliency loans" for small businesses, but the business association says more help is needed.

The Chicago Tribune's Hal Dardick reports that a consultant's study used to justify the $1.3 billion TIF subsidy for the Lincoln Yards project on the city's north side was paid for by the developer — an arrangement already nixed by Lightfoot.

Lightfoot promises greater transparency and accountability of TIFs through a series of reforms meant to ensure that the program spurs development in distressed neighborhoods. The city's chief equity officer (a position created by Lightfoot) will work with the TIF investment committee to evaluate projects based on those priorities. Monthly progress updates and spending reports are also planned.

The City Council approves the mayor's request to dissolve four TIF districts before their scheduled expiration dates. Sunsetting them early will allow other taxing bodies to benefit from the increased property value created within the TIFs. The move also helps generate the planned TIF surplus for the 2020 budget.

A $300 million TIF surplus — announced in Lightfoot's first budget speech — will contribute only $31 million to city coffers, but it represents a windfall of $163 million for Chicago Public Schools. The money, which will come from retiring five TIFs and sweeping surplus dollars from others, must be distributed proportionally to local taxing bodies.

TIF credibility takes a big hit thanks to this Chicago Tribune report on the hurry-up approval of a $1.3 billion subsidy for the Lincoln Yards mega-development. If the vote had been delayed until the new mayor and City Council were seated, the Tribune says, updated tax assessments would have disqualified the project. Candidate Lightfoot opposed the deal, but backed down after negotiating some concessions when it appeared it would pass anyway.

Lightfoot's City Council committee reorganization removes matters involving economic development subsidies, including TIFs, from the Finance Committee and assigns them to the Economic Development Committee.
9. Support a robust Census count followed by fair redistricting

Link to this section

Updated: 6 months ago

See the BGA Policy team's recommendations for this area at 'The BGA's Agenda for Lori Lightfoot'

The 2020 U.S. Census count wraps up. Chicago posts a 60.6 percent self-response rate, down from 62.5 percent in 2010, with most Black and Latino neighborhoods at less than 40 percent. Lightfoot had hoped for a 75 percent response, but the count was complicated by the pandemic and by political interference at the federal level. Next up: redrawing the city's 45 wards.

At a morning media event billed as a Census promo, Lightfoot delivers a fiery warning that "our democracy is under siege" before circling back to the need for residents to fill out their census forms already. Chicago's response rate is 55 percent, compared to 67 percent in Illinois and 63 percent nationwide. "If you are not counted, you give your power, you give your voice away to someone else," Lightfoot said.

Lightfoot introduces the "Census Cowboy" (aka Adam Hollingsworth, known known for riding his horse around town in the persona of the "Dreadhead Cowboy") to help get out the count for the 2020 Census. Chicago's response rate is stuck around 55 percent — well below the statewide 66 percent rate. The cowboy will visit neighborhoods with low response rates to urge residents to be counted.

Free ice cream! That's the prize in a 10-day citywide challenge launched by Lightfoot. The ward with the biggest increase in Census responses wins a visit from the ice cream truck with treats for the youngsters.

Stay home, save lives — and complete the Census. That's the message behind a Lightfoot video aimed at getting out the count for the 2020 U.S. Census.

Lightfoot urges federal officials to delay the 2020 U.S. Census, saying local officials are preoccupied with the war against COVID-19. The city has invested $2.7 million to canvass hard-to-count populations in hopes of reaching a 75 percent response rate.

Lightfoot announces $700,000 in grants for 2020 U.S. Census outreach. The money — $500,000 from the city, $100,000 from Uber, $75,000 from the Illinois Department of Aging and $25,000 from the McCormick Foundation — will go to 32 community groups targeting hard-to-count populations. Chicago has committed to spending $2.7 million to promote the census count.

The mayor announced a $2.7 million investment towards the City's 2020 census outreach efforts. Nearly half of Chicago's population lives in "hard-to-count" communities, and the funds will go toward outreach, coordination with government partners, and troubleshooting issues associated with limited access to computers and Internet. This is the largest amount of money the city has ever committed to the census.

Lightfoot launched a new comprehensive census website that will provide residents with information on how to participate in the census, resources available to aid in ensuring a full count, and why an accurate census is important. The information is available in several different languages, including Spanish, Mandarin, and Polish.

A new City Council committee, chaired by Ald. Ariel Reboyras, 30th, will work for a strong citywide count in the 2020 U.S. Census. Its budget is $110,000.
10. Go slow on that elected school board

Link to this section

Updated: 3 months ago

See the BGA Policy team's recommendations for this area at 'The BGA's Agenda for Lori Lightfoot'

A long-stalled bill that would create an elected Chicago school board suddenly gained traction at the end of the lame-duck legislative session, but did not get a floor vote before the session expired. The bill was supported by the Chicago Teachers Union but opposed by Lightfoot.

Teachers and students returned to the classroom after the 11-day CTU strike. Lightfoot's support (or lack thereof) for an elected school board remains a point of contention. The union wanted her to declare support for its bill during negotiations; Lightfoot says she still favors an elected board, but not the CTU version. House Speaker Mike Madigan declined to take it up during the General Assembly's veto session but says it will be on the agenda in the spring.

If you were hoping for a less adversarial relationship between the new mayor and the Chicago Teachers Union, guess again. Teachers voted overwhelmingly to authorize a strike. It could come as soon as Oct. 7.

Chicago Board of Education meetings will be more transparent and yes, longer, thanks to changes ordered by Lightfoot's new school board president, Miguel Del Valle. Board members will conduct more business in public, and translation will be provided. Meetings will be livestreamed and will be held occasionally in neighborhood sites, at hours designed to encourage public attendance.

Lightfoot replaces the entire Chicago Board of Education, appointing a new president and six members, along with naming a deputy mayor for education and human services.

A bill calling for a 21-member elected school board by 2023 stalled in the General Assembly after Lightfoot said it was a recipe for "chaos." But she maintains her support for an elected board.